For Many Californians, The End of The COVID-19 Pandemic Means The End of Health Coverage.
As the nation largely puts the COVID-19 pandemic in the rearview mirror, the return to "normalcy" for millions of Californians comes with a significant potential downside: losing Medi-Cal coverage. What does this mean for individuals and families throughout the state?
Losing access to state-provided healthcare means that millions of California residents may soon find themselves scrambling to find new health insurance coverage. Are you at risk of losing your benefits due to the nationwide Medicaid rewind?
Here is what you need to know about why you might be losing Medi-Cal benefits and what steps you can take to keep you and your family covered.
Why You Might Be Losing Medi-Cal Coverage
Unlike Medicare, which Americans become eligible for at age 65 regardless of income, Medi-Cal (known federally as Medicaid) is only available to individuals and families below specific income thresholds. These thresholds range from less than 138% of the federal poverty line for most adults (about $20,000 for a single individual) to below 266% of the poverty line for children (approximately $80,000 for a family of four).
As a means-based program, Medi-Cal must verify the income of those seeking Medi-Cal healthcare and coverage. Medi-Cal also regularly reviews the income of those currently enrolled – a process called redetermination – to ensure they continue meeting the income criteria. If Medi-Cal finds that an enrollee's income exceeds the limit, the enrollee will lose their Medi-Cal coverage.
During the pandemic, the federal government suspended redetermination reviews for all Medicaid programs so that individuals and families would not lose much-needed coverage during a tumultuous time. But beginning in April 2023, that suspension ended, and as part of the nationwide Medicaid rewind, Medi-Cal is once again reviewing current enrollees' status to ensure they still qualify. And many enrollees will soon find themselves "disenrolled."
According to estimates by the Kaiser Family Foundation, over 16 million Americans will lose Medicaid coverage over the next 12 months. This includes approximately 2.6 million Californians who will lose their Medi-Cal coverage as redeterminations resume. Many of these people will transition to employer-based group health insurance coverage (their employment being the likely reason they no longer qualify for Medi-Cal). Losing Medi-Cal is not a crisis for these individuals since they will seamlessly move to their employer's plan.
But for those who do not receive employer-based coverage through their job or their spouse's employment, losing coverage through Medi-Cal means they must take affirmative steps to obtain other health insurance.
How To Get New Health Coverage After Losing Medicaid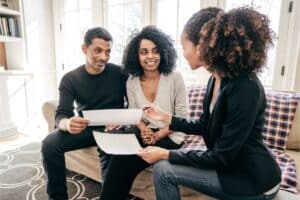 Medi-Cal will give ample notice before disenrolling someone so that they have time to find replacement coverage. Losing Medi-Cal constitutes a "qualifying life event" that allows individuals to enroll in individual or family coverage through the Covered California Marketplace as part of the Affordable Care Act (ACA).
Those losing Medi-Cal can also purchase coverage directly from an insurance company or work with an experienced individual health insurance broker to find the right plan for them and their family. There are several reasons why you should consider working with a broker if you are losing your Medi-Cal coverage.
Related: How Do I Get Health Insurance If Self-Employed?
Why Working With an Experienced Broker Is The Best Way To Get Health Insurance After Losing Medicaid
Getting up to speed on the complexities of individual and family health insurance coverage can be time-consuming, confusing, and frustrating. You may not have confidence that you're picking the right plan, and if you do it yourself, you'll have no one available to answer the many questions you will likely have.
That is why many people in California work with an experienced broker when looking for health insurance after losing Medi-Cal coverage. California health insurance brokers like Preferred Insurance live and breathe health insurance. They have immersed themselves in the world of health insurance, undergone extensive education and training, and must undergo a rigorous licensing process before offering their services to consumers.
These experts can walk you through your options, answer your questions, and propose the best health insurance solutions for you and your family. You will be working with a health insurance broker who is part of your community and who you may run into on the beach or at the grocery store, not a faceless voice on the phone who wants to make a sale.
And that brings up the best part. You receive all the advantages of working with an independent health insurance broker without spending any of your own hard-earned money.
If You Are Losing Medi-Cal Coverage, We Can Help You Get The Coverage That You and Your Family Need
As an experienced California individual health insurance broker, Preferred Insurance can answer your questions and provide practical, affordable solutions for your insurance needs. We always have your best interests at heart and deliver the personal service and expert guidance you need.
Contact Preferred Insurance today to arrange for your free consultation.