Knowing What To Look For In a Good Broker Is the First Step In Finding One
Finding a good health insurance broker near you isn't as easy as finding a great Chinese restaurant near you. That is because you've likely eaten fried rice, noodles, egg rolls, and dumplings plenty of times and can tell the difference between a good dish of cashew chicken and a bad one. And best of all, there are plenty of review sites like Yelp! that can help you find a solid place for your next takeout order.
On the other hand, there's a pretty good chance you haven't worked with a health insurance broker before. You may not know what separates a top-notch broker from one that may not provide you with the guidance and services you and your company deserve. And you may not have the first clue as to how to find out.
As such, finding a good health insurance broker near you can be an intimidating and uncertain endeavor. But it doesn't have to be.
If you are looking for quotes, information, and advice on selecting and enrolling in an individual, family, or group health insurance plan, here are some tips on how to find the right insurance professional to guide you on your health coverage journey.
What Does A Health Insurance Broker Do?
You hire a local lawyer to guide you through the complexities of the law, and you visit a doctor to diagnose your condition and get the care you need. You work with these professionals because they have specialized training, experience, and expertise that you don't.
The same can be said for independent health insurance brokers like Preferred Insurance. Our licensed brokers possess the resources and expertise to help individuals and businesses understand their health insurance needs and the plans and options best suited to meeting them.
A broker can explain how health insurance works, provide you with a wide range of potential policies and help you select the one that is right for you.
Look For An Independent Broker
When looking for a local California health insurance broker near you, make sure your candidates are independent brokers. An independent broker works with multiple health insurance carriers that offer a variety of plans instead of just working for one company. If a broker works for only one insurer, your options will be as limited as their portfolio.
Conversely, an independent broker is not beholden to any single insurer. They won't make more money by recommending one plan or carrier over another. Because of this, they will provide you with objective advice, telling you the pros and cons of each plan based on what is best for you, your company, and your employees, not what is best for them.
Related: What Are The Pros and Cons of Using a Health Insurance Broker?
Look For a Trained and Experienced Human Being, Not a Nameless, Faceless Website
As with everything else, you can find websites and online health insurance brokers near you that promise to make it easy to find and enroll in a health insurance plan. But take a moment and ask yourself: how comfortable are you entrusting your health, your family's health, or your employees' health to a website, to a faceless, nameless person you'll never meet? How do you know the qualifications of the "representative" you deal with, and how well can they know your circumstance and needs if they are thousands of miles away?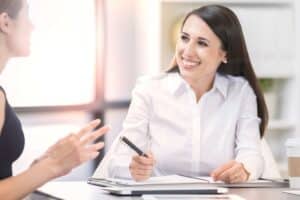 For something as crucial as health coverage, you need to work with someone you trust, who can answer all your questions, and who is looking out for you at all times. You want a human being with training, experience and credentials, not lines of code, fill-in-the-blank forms, "service" representatives responding to you with a script.
A local California health insurance broker near you will meet with you and spend the time to learn about your health, needs, and budget. That way, they can help you understand what plan makes the most sense for your unique circumstances and concerns.
Look At What Others Say
Every health insurance broker will claim that they are the best in town. But it's what customers, carriers, and colleagues say about their experiences that truly matters. Look for positive client reviews online, check whether the broker has any licensing or disciplinary issues, and find out if they are members of certified professional health insurance and brokerage organizations.
Looking For A Great Health Insurance Broker Near You? They're Just a Phone Call Away.
If you want an experienced health insurance broker near you who has your best interests at heart and will provide the personal service and expert guidance you need, the professionals at Preferred Insurance welcome the opportunity to meet with you. As an experienced California group and individual health insurance broker, we can answer your questions and provide practical, affordable solutions.
Schedule a free consultation to discuss your health insurance needs with our licensed independent brokers.