If You Want The Best Coverage For Your Workforce, Work With The Experts
If you're a California small business owner with even just one or two employees, you've probably asked yourself, "Should I buy group health insurance for my small business employees?" If you answered that question with a "yes," you probably next asked yourself, "So what do I do now?" 
If you wonder how to go about searching for, selecting, purchasing, and enrolling in a group health plan for your employees, you are certainly not alone. However familiar you may be with the ins and outs of individual or family health insurance coverage, understanding the nuances of group health coverage, evaluating scores of different plans, and figuring out which plan and carrier are right for your business can be a daunting task. That is why many Southern California business owners work with experienced group health insurance brokers who understand small business needs, concerns, and budgets. 
Before you invest countless hours going down the rabbit hole of group health coverage on your own, here are a few reasons why you should work with an independent broker when you buy group health insurance for your small business. 
Related: Should You Use a Broker to Get Group Health Insurance?
What Does It Mean To Buy Group Health Insurance for My Small Business?
Although the Affordable Care Act (ACA) does not require businesses with fewer than 50 full-time employees to offer coverage to their employees, many smaller companies throughout California do so anyway. 
When a small business owner offers health insurance coverage to their employees, they usually do so through group health insurance plans. In California, carriers that offer group health insurance plans specifically tailored to the need of small businesses include: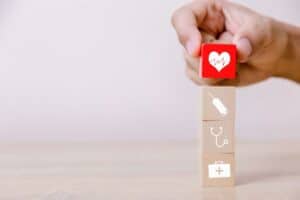 Blue Shield of California

Kaiser Permanente

Aetna

Anthem Blue Cross of California

HealthNet of California

UnitedHealthcare
Here's how signing up for group coverage works. Your small business enrolls with an insurer and purchases insurance coverage for the "group," consisting of your employees and dependents. While many California employers elect to cover full-time employees only, you can offer coverage to part-time employees as well. 
After your company enrolls in group health coverage, you will typically pay the insurance company the total premium for the plan while also deducting contributions from the paychecks of employees who enroll in coverage. The size of those contributions may vary depending on whether an employee needs individual or family coverage.
You can purchase group health insurance coverage directly from a carrier, but those carriers won't provide you with all the options that may be available to you; certainly, they won't suggest that you explore coverage offered by other insurance companies who may have a plan better suited to your needs. But an independent broker who works with multiple carriers will. When you are asking your self "how do I buy group health insurance for my small business," you owe it to yourself and your employees to see how a broker can save you time, money, and annoyances in the long run.
Brokers Know Small Business Group Health Insurance 
The complexities of group health insurance can be pretty overwhelming, even for intelligent business owners. So too can the sheer number and types of plans available. A health insurance broker can cut through the clutter, focus on the best options for your company's specific needs, and explain confusing or obtuse lingo in plain speak. A good broker has the training, insights, and resources to find coverage for all types of small businesses and can help owners enroll in flexible plans with the best options. 
Brokers Save Small Business Owners Valuable Time 
Unless you have a lot of spare time and enjoy reading page after page of confusing coverage documents, and then comparing those pages to other pages in other plans, you probably don't want to spend hour upon hour trying to figure out which plan to choose and how to enroll. 
When you hire a California small business health insurance broker, you can spend your time running your business instead of running around in a maze of plans. 
How Do I Buy Group Health Insurance For My Small Business? Call The Experts At Preferred Insurance. 
Do you need help navigating the complicated and confusing landscape of ACA requirements for small businesses? Preferred Insurance can help! As an experienced, independent California group health insurance and individual health insurance broker, we can answer your questions and provide practical, affordable coverage options for businesses of all kinds. 
Call Preferred Insurance today to schedule your free consultation with one of our experienced brokers to discuss your small business health insurance needs. 
More From Our Southern California Group Health Insurance Blog:
Can Employees Buy Health Insurance Outside Our Company Plan?
Are Flexible Spending Accounts Available In Employee Group Health Plans in California?
Should You Offer Health Insurance Benefits to Seasonal Employees?