You Can Provide Your California Employees With Health Benefits Without Breaking The Bank
California small business owners face a tricky balancing act when it comes to the health of their workforce: providing health insurance while also trying to lower employee health benefit costs.
Resolving this dilemma is critical for business owners because offering health insurance coverage has many business benefits, such as retaining current employees, attracting new talent, greater job satisfaction and productivity, and significant tax advantages.
But these positives can come with financial negatives. The average costs for American employers that pay for their employees' health care will increase 6.5% to more than $13,800 per employee in 2023, according to Aon, a leading global professional services firm. Those numbers can add up quickly, even for a Southern California business with only a few employees.
Fortunately, there are ways to lower employee health benefit costs – keeping employees covered while your business spends less money doing so.
Here are four tips to lower employee health benefit costs for California small business owners:
Keep Your Workforce Healthy
Health insurance is complicated, but one aspect isn't: healthy people don't need to avail themselves of their benefits as much as those with unhealthy lifestyles. The less health care that your employees need, the less the costs of providing that health care will be. While no program or policy can prevent all illnesses or injuries, employers can take steps to reduce the likelihood of such issues.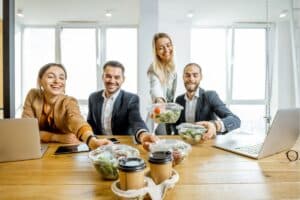 Many businesses – from Fortune 100 companies to small mom-and-pop shops – provide wellness programs that promote employee self-care. These programs offer workers an opportunity to earn prizes, rewards, perks, or other benefits if they take preventative care steps. These may include routine screenings and tests, lifestyle changes such as exercise and diet, and participation in other programs focused on preventing illness and chronic health conditions.
Reduce Benefits Or Raise Employee Contribution Levels
No business owner wants to tell workers they will need to pay more out-of-pocket for their health insurance coverage. Similarly, no owner wants to announce that coverage for the next policy year will provide fewer benefits, a smaller network of providers, or higher deductibles or copayments. But as undesirable as either of those things are, they are effective ways for employers to lower employee health benefit costs.
Consider Offering Health Savings Accounts (HSAs)
A health savings account is a tax-exempt bank account that an employee can draw from to pay for certain medical costs. HSAs can be a win-win for the company and its workforce. Employees can get valuable tax breaks while business owners lower employee health benefit costs. As an added benefit to employers, any contributions they make to their employees' HSA accounts are also tax deductible.
An employer and its employees can only establish and use an HSA with HSA-compatible insurance plans. Such plans usually have lower monthly premiums but higher annual deductibles.
Know Your Options
Small business owners know a lot but may not know about group health insurance. If you don't understand how coverage works, the options, or your employees' needs, choosing a plan that keeps your costs low while providing the benefits your employees deserve can be difficult.
That is why so many California small business owners work with the independent, knowledgeable, and trusted group health insurance brokers at Preferred Insurance. Our experienced brokers clarify and explain the complexities of health insurance in understandable terms. Our experience, knowledge, training, and resources allow us to find flexible plans with the best options.
You Might Like: How To Find a Good Health Insurance Broker Near Me?
Because we are independent brokers and not agents tied to any specific insurance company, we can work with and obtain quotes from several carriers. That means you'll get plenty of coverage options that offer various benefits and features at prices designed to fit your budget.
Additionally, since we are an independent broker, we don't make more or less money by recommending one carrier or plan over another. When exploring and proposing coverage options, our only incentive is finding the best plan for your company and employees, not the best one for us.
Preferred Insurance: Helping California Small Business Owners Lower Employee Health Benefit Costs
As an experienced California small business and individual health insurance broker, Preferred Insurance is committed to helping California companies keep their workforces – and their bottom lines – healthy.
Contact Preferred Insurance today to set up your free consultation to discuss your small business or individual health insurance needs.