What To Expect In Costs and Coverage In The Coming Year
California is home to many emerging trends in fashion, music, and pop culture, but it is the group health insurance trends that have very real, tangible impacts on your life. If you are one of the tens of thousands of businesses and the estimated 153 million Americans enrolled in job-based group health insurance, you do well to stay abreast of these changes.
The benefits and physician networks offered, the costs of coverage, and what employees and employers want in a plan evolve and change over time. This is why California employers that provide group health insurance coverage for their workforce should regularly review their policy with an experienced health insurance broker who can help ensure their coverage is still the best for their needs and budget.
As 2024 approaches, here are a few California group health insurance trends to be aware of in the coming year.
Higher Premiums and Other Costs
One of the group health insurance trends that always stays in style (unfortunately) is an increase in premiums and out-of-pocket expenses. This is especially true during times of higher inflation – like we are experiencing now.
As reported by Reuters, "Benefit consultants from Mercer, AON, and Willis Towers Watson see employer healthcare costs jumping 5.4% to 8.5% in 2024 due to medical inflation, soaring demand for costly weight-loss drugs, and wider availability of high-priced gene therapies."
According to the latest Kaiser Family Foundation (KFF) Employer Health Benefits Survey released in October 2023, employers and employees will be spending more on health insurance in 2024. Specifically:
Employer-sponsored health insurance in 2023 averaged annual premiums of $8,435 for single coverage and $23,968 for family coverage, an increase of 7% over the previous year. Those numbers are expected to go up next year.
Over the last five years, the average family coverage premium has increased by 22%.
On average, covered workers contribute 17% of premium costs for single coverage and 29% for family coverage. On average, the smaller the firm, the higher the percentage of the premium worker's pay for family coverage (at 38% of the total). Convexly, workers at larger companies paid less, at 25% of the total premium cost.
The average deductible amount in 2023 for workers with single coverage is $1,735, which has stayed consistent for a decade and is likely to remain so in 2024.
The average copayment for primary care came in at $26, while specialty care physician appointments was $44. The average coinsurance rates for primary care are 19% and 20% for specialty care. These amounts have remained steady over the past several years.
Related: Understanding Group Health Insurance Costs in California
Containing Costs Through Preventative Care and Wellness Programs
The healthier your employees are, the less medical care they will likely need. And when fewer employees experience serious health problems requiring expensive and ongoing treatment, your company (and your insurer) will pay less in health care costs.
That is why so many California employers are following the group health insurance trends of emphasizing preventative care, disease screenings, wellness programs, and other initiatives designed to reduce the likelihood of illness, injury, or disability.
For example, according to the KFF survey, many companies offering health insurance benefits include programs to address the health risks and unhealthy behaviors of their employees. The most popular wellness programs include help for smoking cessation, weight management, and/or behavioral or lifestyle coaching.
Additional Reading: The Importance of Preventative Care in Group Health Insurance Plans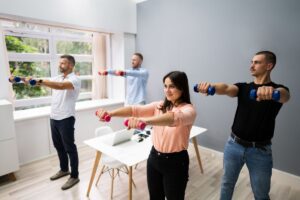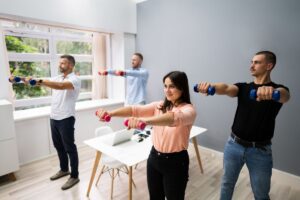 Robust Mental Health Benefits
Group health insurance trends revolving around mental health will continue to grow in 2024. Even though the pandemic may be behind us, its mental health impact remains. This is undoubtedly no surprise to you – anxiety, depression, and substance abuse, along with other mental health disorders, have continued to increase over the past several years. Knowing this is a critical area of care for their employees, many employers and insurers now emphasize supporting the mental health of employees through benefits and services.
According to a study by financial services company Securian Financial, 65% of Gen Z workers and 60% of Millennial workers said having their employers provide robust mental wellness benefits was crucial to them.
As such, many group plans now include greater benefits and coverage for therapy, medication, substance abuse assistance, and in-patient mental health treatment if needed.
Working With An Experienced Broker Is One of the Group Health Insurance Trends Your Company Should Follow
With higher costs on the horizon for group health care coverage, one of the best ways to find savings while still taking care of your employees is to work with the experienced small business group health insurance brokers at Preferred Insurance. Our long-standing relationships with several different carriers ensures you'll get plenty of coverage options that offer a wide variety of benefits at prices likely to fit any budget.
Getting started is easy when you call Preferred Insurance to schedule your free consultation. Our experienced brokers look forward to discussing your small business health insurance needs.